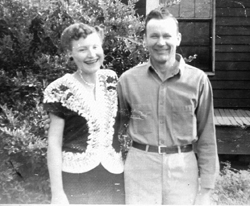 Newly Added Witherspoon Photos

Indiana Links
Indiana Cemetery Photos
Mississippi Cemetery Photos
Photo Gallery
About My Family
View Documents with Acrobat Reader (FREE DOWNLOAD):
The Continuing Witherspoon Genealogy
by Roger Boyd Witherspoon
Will of John William Witherspoon
Family Artist - Edward Wayne or William Henry Witherspoon
Jackson D. Witherspoon Widow Claim
My Witherspoon family's migration from Pennsylvania to Indiana took place when John William Witherspoon (born: 11 Dec 1756 - died: 1 Jan 1843) moved from York County, Pennsylvania to Gibson County, Indiana along with his wife

Margaret Carson

, his second wife. John William traveled a lot working for the railroad, but managed to have 12 children during his life. John traveled and lived in North Carolina, Alabama, Tennessee, and finally Indiana.
Among the 12 children was Jackson Dearmon Witherspoon (born: 20 April 1815 in Alabama). Jackson Dearmon died in Gibson County, IN. His first wife, Elizabeth Teel died shortly after their marriage. However, one known son was born through this union, John Logan Witherspoon.
John Logan Witherspoon (born: 16 Sep 1842 - died: 27 Jan 1886/87) was prisoner of war at Andersonville Prison during the Civil War. He later died from tuberculosis (T.B.) which he contracted due to a lack of a decent place to live and no decent food when he was in prison. This disease caused his death at a young age and also the deaths of his wife Catherine (Scott) and his sons, Wes and Clarence, and one daughter, Edith.
However, despite the hardships of this family during the Civil War, John Logan's son, William Henry Witherspoon (born: 1876 - died: 2 Sep 1927) married Emily Catherine Broadwell and together had 11 children. William Henry Witherspoon moved his family to Arkansas by covered wagon to get in on the lumber business. He was killed by a fatal shotgun wound.
Check Out My Other Family Web Sites:

WRENN
MELTON
BAKER/YOUNG



Last Update: January 14, 2013 1:55 PM
Copyright © 2000 - 2013 - Michael Witherspoon